Fendi: $1,850
Here's the break down:
It's wool crepe, dry clean only. Of course, if you were to drop almost two grand on a dress you'd be all about dry cleaning, but I'm a college student and the coin-op laundry busts the bank sometimes.
Polyester Crepe (its a little thicker, and has a little bit less drape, also it's less breathable than wool crepe, but visually still pretty)
$2.99/yd
You'll be needing a zipper for the back, and if you want a pattern to start with you can try this one: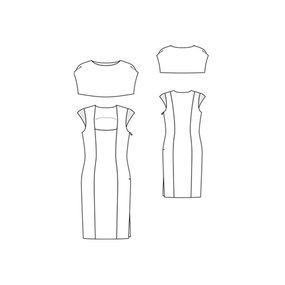 The neckline will need to be raised and about 2 inches needs to be added in a seam along center front to create the third inverted pleat. A yoke will have to be created at the waist, and width will have to be added to the princess seams on the top of the dress. You can easily leave the cap sleeves off, but personally I like the dress better with a sleeve option.
---
Total costs are less than $20 for materials, if you're like me and like to pretend that you are getting paid the difference between your cost to recreate the look and the cost of the actual garment; and say you spend, 13.5 hours on it.
You just made somewhere around $135.55 an hour.
Woot!
Dry cleaning, here we come!